COVID-19 deaths are now at more than 700,000 (and more than 100 in the parish family), many others have the added loss of significant property due to the September tropical storm, and still others have their own grief and loss apart from the headlines.
And, just as a 145-year-old parish alone, we've had many generations of faithful who have gone before us and for whom we continue to be obliged to lovingly remember to the Lord.
For all these reasons, St. Joseph Catholic Community will focus more intently on grief, loss and the deceased during the month of November.
We will begin by setting the look-and-feel for November with construction in late October of our "Day of the Dead" altar.  Parishioners will also have the opportunity to purchase memorial candles for their deceased loved ones. Here's last year's altar: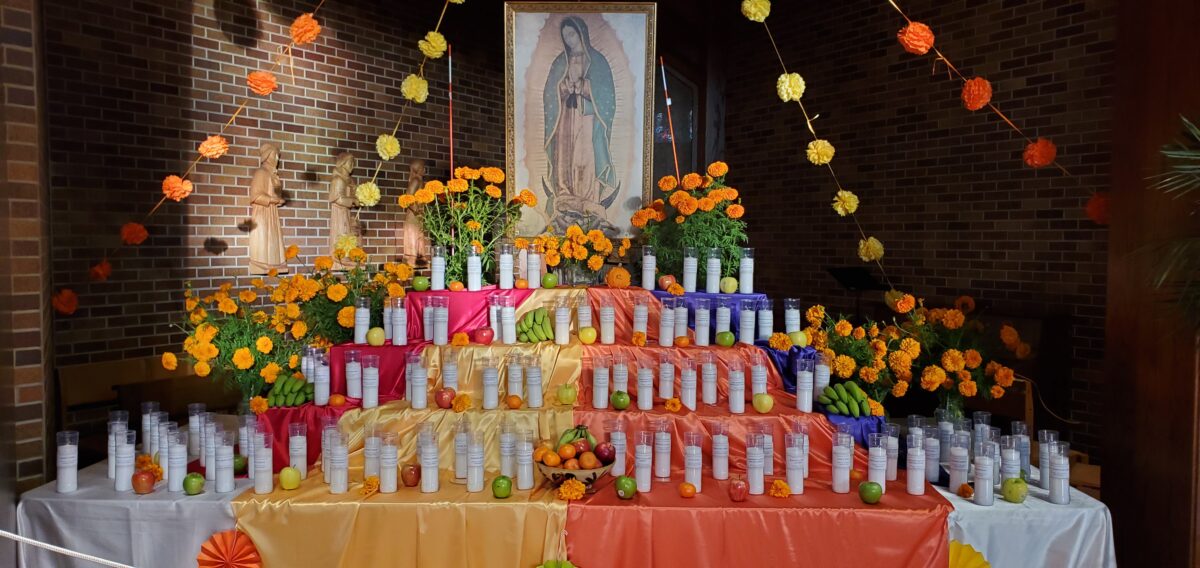 And here is our November schedule to date:

Tuesday, November 2 – All Souls Day
10:00 AM: Ecumenical prayer service with pastors from the Bound Brook
Presbyterian Church and St. Joseph Catholic Community at Bound Brook Cemetery.
4:00 PM: All Souls Day Mass at St. Joseph Cemetery (bilingual); music by Tony Varas, Diocese of Metuchen.

Friday, November 5
7:00 PM: First Friday Mass in Time of Pandemic.  Preacher: Deacon Nelson Torres from Holy Family Parish, New Brunswick.

Thursday, November 11 – Veterans Day
12:00 PM: Veterans Day Mass at St. Joseph Cemetery
Sunday, November 14
6:00PM: Bilingual Mass for Parish Deceased 2021
Thursday, November 18
9:30AM: You are invited to join together for a prayer walk, to remember our dead, at the St. Joseph Cemetery, Foothill Road, on October 14 and/or November 18, 2021, beginning at 9:30 am. Wear comfortable shoes. Enter the cemetery from the Foothill Road side (immediately across from the Bridgewater Township Yard Waste Site) and park only on the right side of the path, to insure a clear exit.Please use your judgment: In the event of inclement weather, the Cemetery Prayer Walk will not take place.
Monday-Thursday Nov. 22-25: "Healing Thanksgiving" Week
Monday, November 22
7:00 PM: St. Sharbel Healing Mass  with the Sacrament of Anointing
Tuesday, November 23
7:30 PM: Pastor's Chapter Talk on St. Joseph and a Grace-Filled Death
Wednesday, November 24
7:00PM: Weekday Mass; Deacon Edgar Chaves preaches on "Thanksgiving in Spite of It All"
Thursday, November 25 /Thanksgiving Day
9:00 AM: Thanksgiving Mass (bilingual)
Our parish cemetery (above) will host 2 Masses (Nov. 2, 4pm and Nov. 11,noon) and one prayer walk (Nov. 18, 9:30am) to remember the deceased.