Join us as we celebrate Christmas!
St. Joseph Catholic Community will offer six Masses over a 22-hour period Friday-Saturday, December 24-25 to celebrate the birth of the Messiah.
In addition, for two consecutive Sunday afternoons (Dec. 19 and 26, at 4pm), there will be musical programs suited for families. On December 19, our choir Christmas concert, and December 26, a family rosary event.
Here is our 2021 Christmas Mass schedule:
FRIDAY, DECEMBER 24
2:00pm — "COVID-Conscious Christmas" Mass (led by the pastor in English) — this Mass is especially geared toward those who are immuno-compromised and/or have a number of reasons to still be very careful about being in a public space during the ongoing public health emergency, especially with aggressive increase in cases in New Jersey now again in December.
As with last year, there will be NO music at this Mass, and, out of all of our six Christmas Masses, this is the only one where  masks are required for all participants.
5:00pm — English Christmas Eve Mass (led by Rev. John Pringle, music by Maritza Alvarez and choir)
7:00pm — Spanish Christmas Eve Mass (led by Rev. Marco Caceres, music by Maritza Alvarez and choir)
SATURDAY, DECEMBER 25
12:00 midnight — Midnight Mass (led by the pastor, music by Maritza Alvarez and choir)
8:00am — English Christmas Mass at Dawn (led by Rev. Pauly Thekkan, silent)
12:00 noon — Spanish Christmas Mass During the Day (led by the pastor, Deacon Gustavo Sandoval preaching)
There are NO evening Masses at the parish on Christmas Day.
For SUNDAY, DECEMBER 26, the feast of the Holy Family, there is our regular 8am and 12noon Masses, plus a Family Rosary event at 4pm.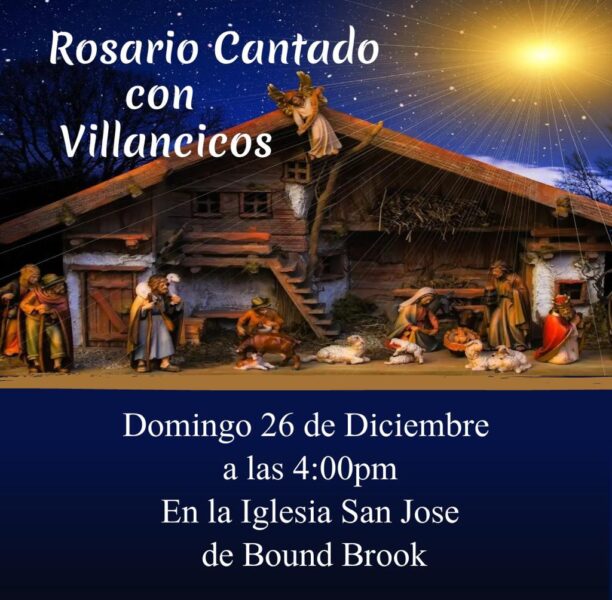 There is NO 6pm Mass on Sunday, December 26.
For the following weekend, even though the obligatory nature of January 1 (Mary, Mother of God) does not apply this year, we recognize people like to either end or start a civil year in prayer.  And so here's our schedule:
For Friday, December 31: we will have Adoration of the Blessed Sacrament from 3-5pm for those who want to end the year prayerfully and silently, then a 5pm Mass in English and a 7pm Mass in English, as vigil Masses for the feast of Mary, Mother of God.
On Saturday, January 1, there will be no usual 8am daily Mass, but rather a 12noon Mass in the language(s) of those attending the Mass. Our regular weekend schedule resumes at that point, with a 5pm and 7pm Vigil Mass for the Epiphany of the Lord on Saturday evening, and an 8am and 12noon Epiphany Mass on Sunday. However, once again, there will be NO 6pm Mass on Sunday, January 2.