What is Day of the Dead?
"Día de los Muertos, or Day of the Dead, is a primarily Mexican way of celebrating the feasts of All Saints Days and All Souls Day" It's a time to celebrate and remember family members and loved ones who have passed away. "The celebration is an expression of Latin American culture and Catholic beliefs, which makes use of some familiar symbols to teach and celebrate the Church's teaching on the communion of saints."
Ofrendas, or altars, are traditionally used in Día de los Muertos celebrations to honor deceased loved ones. These Mexican style altars are set up with pictures, personal items, food, and cempazuchitl, or Mexican marigolds, for the faithful to remember and honor departed loved ones.
A Day of the Dead Altar may consist of the following:
Ofrenda– Translated as offering, is the common name for a Day of the Dead Altar, this is because everything that is placed on an altar is an offering to deceased loved ones.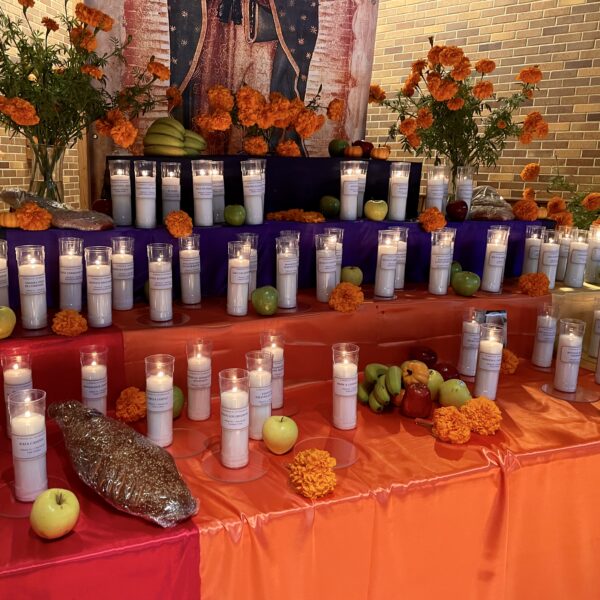 3 Tiers – The 3 tiers that make up the altar represent the three stages of the church; life on earth, souls in purgatory, and souls in heaven.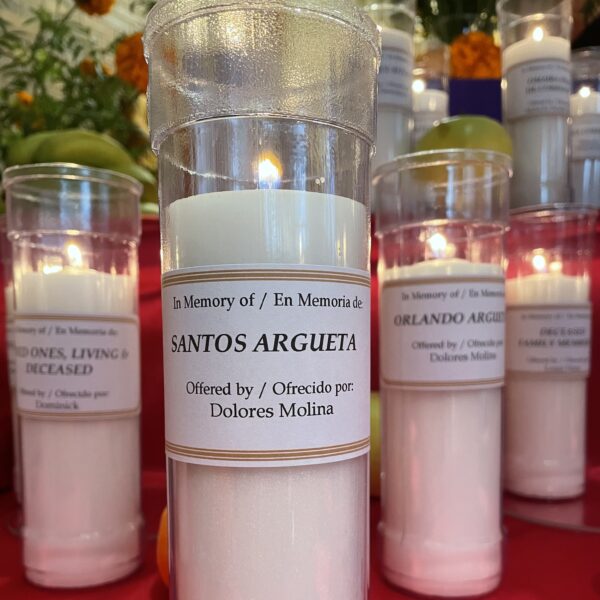 Candles – One candle is placed in remembrance of each deceased loved one. Lit candles represent the light of Christ.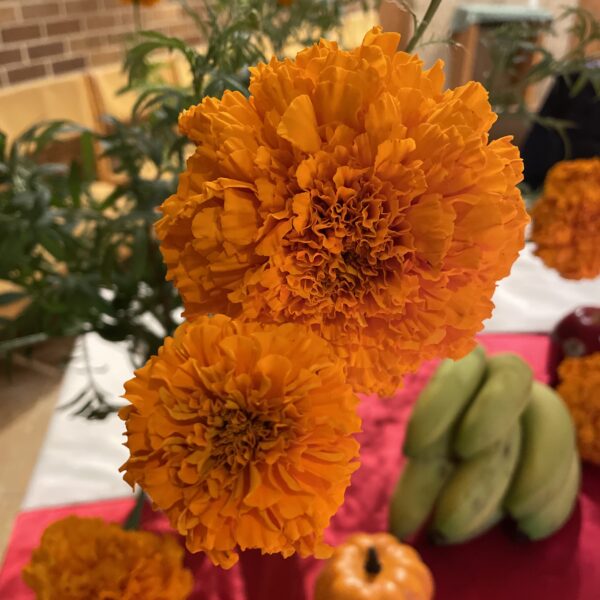 Cempasúchil – This traditional Day of the Dead flower is also known as Mexican marigold, a specific species of marigold that is strongly scented, big-headed, and brightly colored yellow and/or orange. This flower is believed to help guide the dead towards the altar with its strong scent and bright color.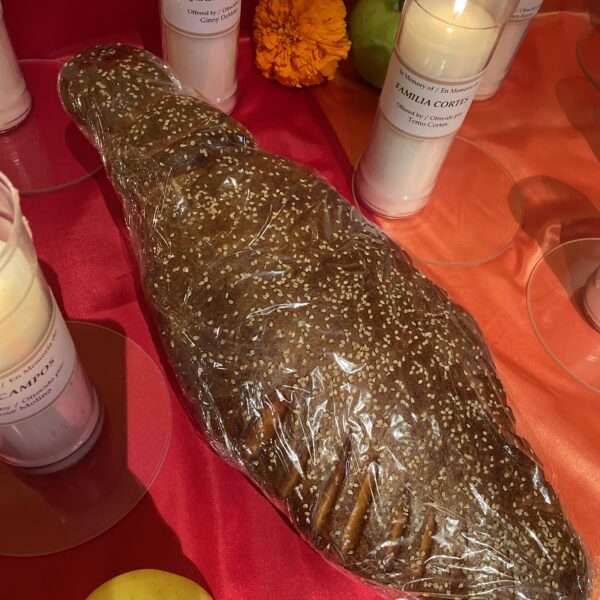 Pan de Muerto – This traditional Day of the Dead bread is made with anise seeds and made exclusively for the feast of Day of the Dead. The shape of this bread can be in the shape of a person, which symbolizes fraternity, and the bodies of deceased loved ones.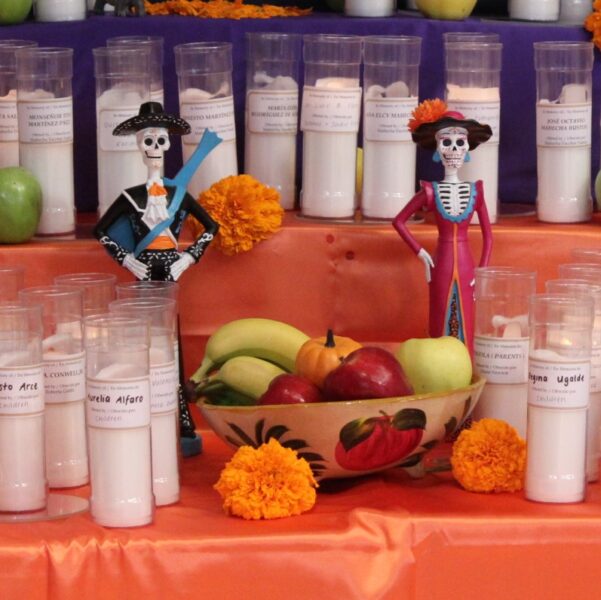 Fruit and Food – Is placed on the altar for souls to "eat the essence" of these offerings. It is also used to remember those faithful departed, in placing their favorite foods.
Water – Is a reflection of purity and reminds us of our baptism. It also helps replenish souls for their arrival/departure to the offering.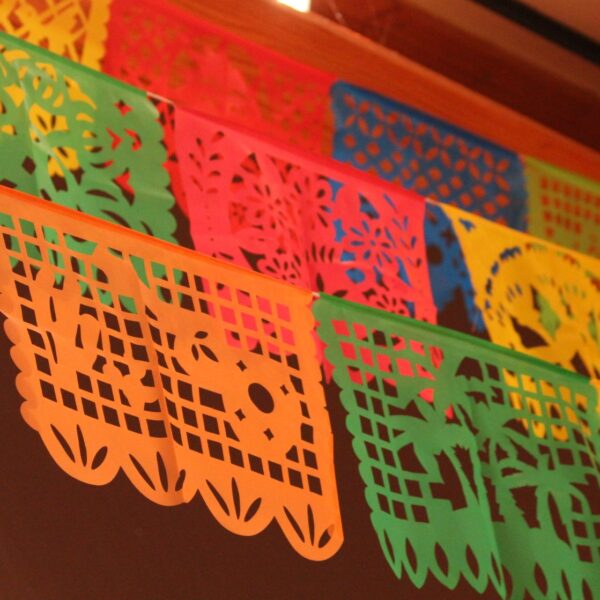 Papel Picado – This paper folk art banner is a representation of the wind, and of the movement of souls joining us during this time.
The celebration of Day of the Dead should not be confused, or referred to, as "Mexican Halloween". Día de los Muertos is a celebration to commemorate deceased loved ones and an expression of our Catholic beliefs.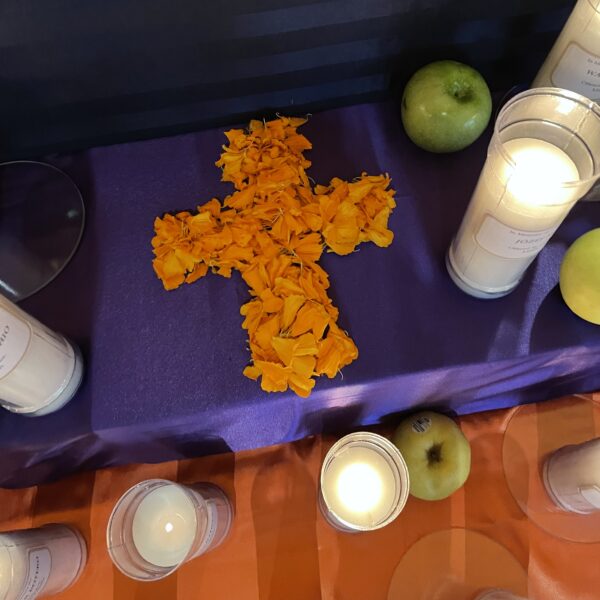 Sources:
– Ernesto Hernandez Olmos
– Jonah McKeown for catholicnewsagency.com