From Anthony Kearns, Esq, Chancellor of the Diocese of Metuchen:
"As of right now, we remain under NJ executive order 242.  This EO does not mandate the use of masks indoors.  However, according to NJ.COM,  the state of New Jersey announced Wednesday another 9,711 confirmed COVID-19 cases, by far the most positive tests announced for a single day since the pandemic started in March of 2020.  Therefore, the current Executive Order could be amended.   For now, we are following the guidance of Executive Order 242.  St. Peters Hospital has published the following information:
A new surge of the Covid-19 pandemic is upon us, with new cases and hospitalizations on the rise.  The Centers for Disease Control and Prevention (CDC) is monitoring the spread of the Omicron variant, which is more contagious than the Delta variant.  As of December20, Omicron has been detected in most states and is rapidly increasing the proportion of Covid 19 cases it is causing.
The potential numbers of COVID cases expected in New Jersey by mid-January is potentially staggering, reaching as high as 20,000 cases per day and over 5,000 hospitalized.  Even if these estimates are not reached, the number of new cases is highly likely to increase substantially and we need to remain vigilant in our preparedness.
Here are the striking facts about the new COVID 19 surge:
Saint Peter's COVID census has tripled over the past two weeks, reaching over 60 patients per day
Over 2,000 patients are in New Jersey hospitals; 400 in intensive care and 200 on ventilators
There have been over 42,000 new cases in New Jersey in just the past week with 9,711 confirmed cases reported yesterday and the number of fatalities continues to grow every day – reaching nearly 26,000
Almost 1.2 million total confirmed cases statewide established through nasal swab PCR testing
Being vaccinated and boosted is more important than ever since the onset of the pandemic."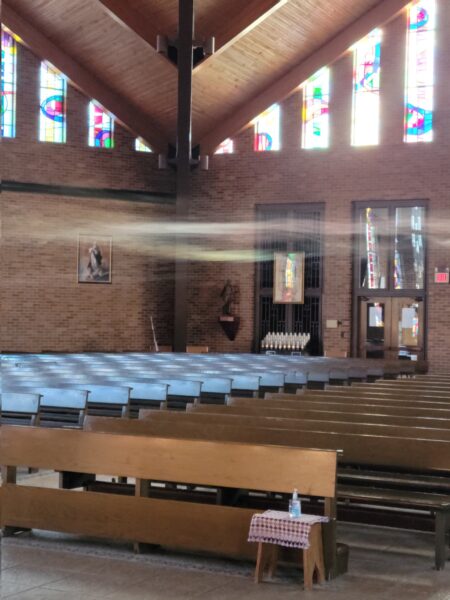 At St. Joseph, short of the mask mandate, which would help a great deal at this time, we are focusing on ventilation.  As the above photo from a recent patch of dust kicked up by landscapers and that lingered over the congregational seating  shows, particles can remain airborne and nearly still for awhile.  We will be installing a CO2 monitor in coming days and have established a protocol for action should those levels indicate a hazardous stagnation (from a virus correlation standpoint) to our indoor air.  Doors will be open for our bigger Masses.