Pastor's Pentecost Reflection: A New Beginning for St. Joseph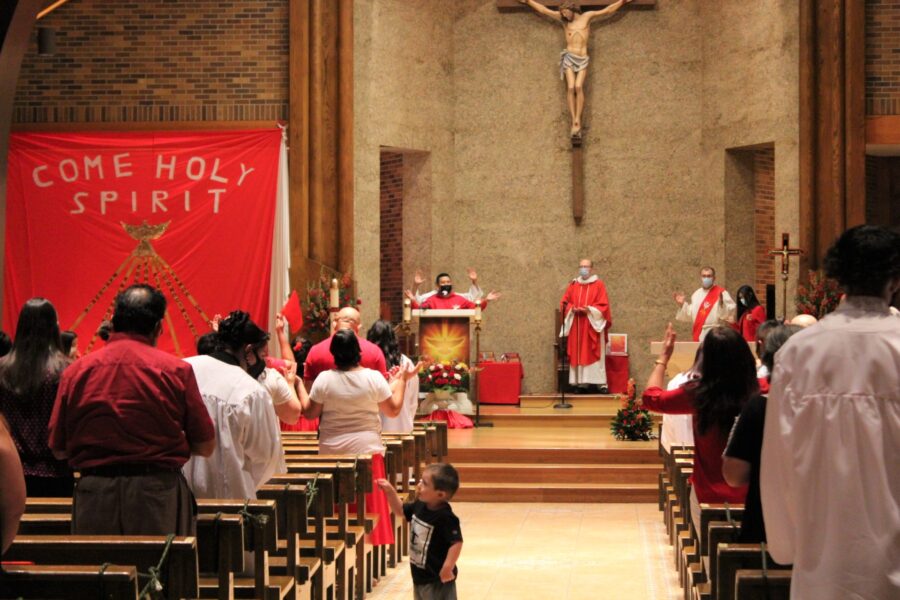 Walking to our final parish Mass of the Easter Season, our 6pm Pentecost liturgy, a parishioner stopped me along the street to tell me how much he enjoyed an earlier 10am Mass.  "I was greeted at the door by ushers who probably learned English as a second language, and then the readers were women who also probably didn't speak English as their first language, " he said.  "Yet I felt ministered to in my own language by parishioners in a way that really made it feel like a special Pentecost."
It's hard to top a stirring comment like that.  And yet if there was anything that unified our diverse Pentecost experiences across the parish this past weekend, it was the unlikely harmony of a lot of different and contributing parts.
Our Pentecost Vigil, more than two hours long, featured extended reflections on the added readings, using contemplative and charismatic responses, along with a mini-Bible study for another reading.  Liturgical dance and a procession of banner bearers added to the sea of red in the church and the overall life of the liturgical environment in an energetic way rarely seen.  Music ministers harmonized throughout the weekend in coordinated and joyful fashion.   Altar servers returned to service, but as family units.
Although the parish can't take any credit, we were blessed to host Bishop Checchio and bring the wider Church very boldly into our Pentecost circle.
If we didn't know it already, St. Joseph Catholic Community is gifted in splendid and multifold ways.  Pentecost weekend was a moment when those gifts were offered publicly in a way that gave marvelous expression to the celebration to the life of the Spirit and the vibrancy of the Spirit's Temple, the church.
And the gifts aren't going to get tucked away anytime soon.  As the pandemic restrictions ease, our next major task will not be about marshaling all the gifts in support of one big church feast, but how to organize them in a lively and ongoing way throughout our parish rhythm.  There's a lot of planning and details and training and organization ahead over the summer months, but if you happened to catch any of our big Pentecost Masses, you now have a glimpse of what a full-throttle, post-pandemic St. Joseph may look like.  And it will be an exciting place to call your church home.