Covid-19 Crisis Update (Jan 17)
Omicron is still very active through our area.  Our strong recommendations: get fully vaccinated (including a booster!), wear a mask in church, DO NOT come to church if you have a fever, cough or sneezing, no matter what the source (this has been an issue lately); maintain social distance, good hand hygiene and situational awareness at all times on the property.  Be prepared to keep your coat on as we reserve the option to keep the doors open.   97 members of our parish family have died from COVID-19.
LATEST
Finally Here: Family Faith Formation!
Our new model of religious formation — monthly, continuous, whole family — kicks off with opening sessions Jan 23, 24 and 30, and with modifications due to COVID-19 conditions.
LEARN MORE
Special Moment at February 2 Masses
At our two daily Masses on Wednesday, February 2 — 8:30am and 7:00pm — we will be enrolling those who have chosen to follow the Consecration to St. Joseph path until May 1.
February 2 is the feast of the Presentation of the Lord, also known as Candlemas.  We will be blessing candles at the two Masses, too.
Winter Weather Reminder
Winter 2022 is now in full swing, and with it comes the possibilities for delays, postponements and cancellations. Check here or on our social media in the event of stormy weather.
Enjoy the Silence, Join the Contemplative Revolution
Every weeknight our church is open at 6pm for twenty minutes of do-it-yourself silent contemplative practice, led by the pastoral team.  (Each Monday the practice is Lectio Divina for the coming Sunday's Gospel.)
"Powerlessness is our greatest treasure…grace is sufficient for you, but not something you can understand." — Thomas Keating
WHAT WE DO
Save the Date:
"Merton & Me"
for St. Joseph Weekend
The acclaimed one-man performance "Merton and Me" will be coming to St. Joseph Catholic Community, Friday, March 18 at 7pm as part of our Feast of St. Joseph parish weekend.  Also that weekend: special St. Joseph Day Mass, March 19 at 10am, led by longtime pastor (1990-2013) Father Charlie O'Connor.
About the Show
(Still) the Year of St. Joseph!
Through May 2022 we dream, discern, decide and do our future together in the light of St. Joseph, our patron, as we seek to develop our prayer, charity and faith formation.
About a dozen parishioners are participating in a bi-weekly program of consecration to St. Joseph that will take us through the May ending of the Year of St. Joseph.
Consecration Info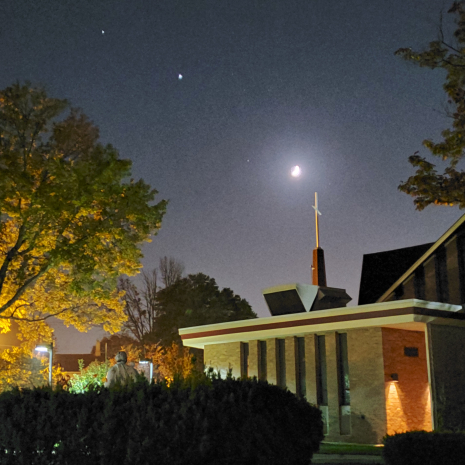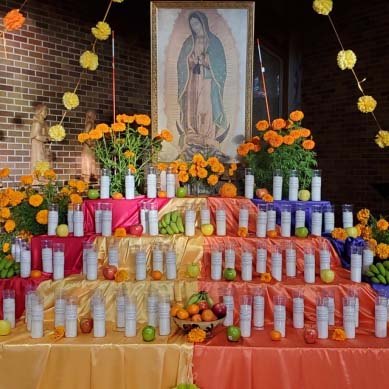 About
Nearly 150 years ago, infused with Benedictine monastic wisdom, a Catholic community began to take shape in Bound Brook, NJ.
Rooted today in a stunning sacred space inspired by the reforms of the Second Vatican Council, St. Joseph Catholic Community lives discerningly - amidst the current crises - in contemplative practice and justice-minded engagement of our multicultural membership. Joseph of Nazareth, as model of silence, work and selfless care, is our patronal light in persevering along Christ's radical way of discipleship.
Worship With Us
Sunday Masses
Saturday Vigil
5:00 PM (English)
7:00 PM (Spanish)
Sunday Masses
8:00 AM (English)
12:00 PM (Spanish)
6:00 PM (Bilingual)
Maximum Covid Capacity - 400 people (as of 6/5/21)
Daily Mass
Daily Mass
M-F 8:30 AM (English)
M-F 7:00 PM (Spanish)
Sat 8:00 AM (English)
Daily Prayer Practice
Contemplative Practice
Monday-Friday 6:00 PM
Monday at 6PM:

Lectio Divina
Vespers (Spanish)
Monday-Friday 6:30 PM