Pentecost Vespers June 5
The Easter season culminates with the great Pentecost feast.  We will bring the curtain down on Easter and Pentecost with a bilingual Vespers service Sunday evening, June 5 at 6pm.
Monastic Momentum
We are happy to announce that our Pastoral Services Director has been selected as a participant in the 2022 Monastic Institute at Mepkin Abbey, South Carolina, for a five-week immersion experience in the life of a Trappist monk.
Also this summer, we launch our "Contemplative Eldering" project for parishioners.  Details soon.
Tending to Easter Within
Join us for contemplative practice Monday through Friday at 6pm in the church.  Monday is always Lectio Divina, and the first Monday each month is a guided communal Lectio.  Tuesday-Friday is do-it-yourself contemplation.
Parish staff is available for coaching and advice.
Next Stop: 150th Anniversary
As we ended our "year" (17 months) of St. Joseph on May 1, we began our countdown to our 150th anniversary in 2026.  Prepare for four years of action and solidifying our parish mission with our "Bounding Beyond" campaign.
Pray, Stand with Ukraine
Unfortunately, the violent aggression against Ukraine does not stop, a senseless massacre where every day there is a repetition of slaughter and atrocities. There is no justification for this!
— Pope Francis, April 10 2022
UKRAINE RESOURCE PAGE
Stealth Omicron On the Rise
Cases are up as the "stealth Omicron" variant hits New Jersey. No matter what others are doing, what we've recommended here for months continues: get vaccinated (including a booster!), wear a mask in church, DO NOT come  if you have a fever, cough or sneezing; maintain social distance, good hand hygiene and situational awareness at all times. We open doors and windows whenever our carbon dioxide monitor signals high levels. 98 members of our parish family have died from COVID-19.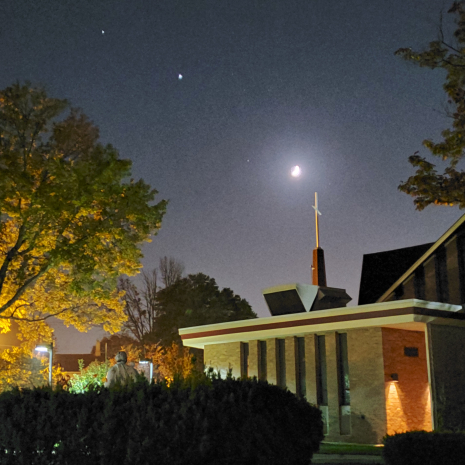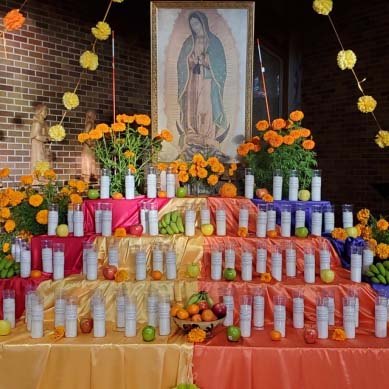 About
Nearly 150 years ago, infused with Benedictine monastic wisdom, a Catholic community began to take shape in Bound Brook, NJ.
Rooted today in a stunning sacred space inspired by the reforms of the Second Vatican Council, St. Joseph Catholic Community lives discerningly - amidst the current crises - in contemplative practice and justice-minded engagement of our multicultural membership. Joseph of Nazareth, as model of silence, work and selfless care, is our patronal light in persevering along Christ's radical way of discipleship.
Worship With Us
Sunday Masses
Saturday Vigil
5:00 PM (English)
7:00 PM (Spanish)
Sunday Masses
8:00 AM (English)
12:00 PM (Spanish)
Maximum Covid Capacity - 400 people (as of 6/5/21)
Daily Mass
Daily Mass
M-F 8:30 AM (English)
T-F 7:00 PM (Spanish)
Sat 8:00 AM (English)
Daily Prayer Practice
Contemplative Practice
Monday-Friday 6:00 PM
(Monday: Lectio Divina)
Vespers (Spanish)
Monday-Friday 6:30 PM