Welcome to
St. Joseph
Looking for a small, humble, diverse Christian community seeking to steadily and simply connect with God in prayer and service?
Look no further than here, the corner of Mountain Ave. and High St. in Bound Brook.
October: Blessing Pets & Priests
Two widely varying celebrations mark our special events calendar for October. On Sunday, October 2, at 6pm outdoors, we celebrate our annual Mass with the Blessing of Animals.  Families are invited to bring their family pets to the liturgy.  On Saturday, October 15, we are canceling our regularly-scheduled evening Masses to create a single, bilingual 6:15pm Mass honoring the combined 105 years of priestly service of Frs. John Pringle and Marco Caceres.
Dining Down the Deficit
A group of parishioners has taken it upon themselves to lead a project to prepare a variety of tasty ethnic foods for sale outside the church after recent Masses, in the hopes of creating fellowship and diminishing our operating deficit. They are off to a great start, having raised more than $4,000 after only six such sales.
Season of Creation 2022
Each year Christians are now called to unite in prayer and action from Sept. 1-Oct. 4 on behalf of our common home.  This year's theme: "Listen to the Voice of Creation."
We conclude our parish commemoration with back-to-back outdoor Masses: the blessing of animals Sunday, October 2 at 6pm, and our closing Green Mass, Monday, October 3 at 9am.  For our full parish Season of Creation schedule, go here
2nd Lectio Divina Added
As our Contemplative Elder project takes off in earnest, we have introduced participants to a contemplative practice, Lectio Divina, on Mondays at 9am.  A reminder that our 6pm Monday Lectio Divina continues weekly.  Both sessions feature the Gospel passage for the coming Sunday.
Pray, Stand with Ukraine
"I would like to mention the terrible situation in martyred Ukraine. My envoy has told me about the pain of this people, the monstrosities they suffer. Let's pray together for peace" — Pope Francis on Twitter, Sept. 21, 2022
Please continue to respond generously in prayer and action as this lawless invasion by the Russian aggressors begins an eighth month.
UKRAINE RESOURCE PAGE
COVID Concerns Continue
Covid-19 subvariants are still very much with us, infecting parishioners. No matter what others are doing, we continue to ask the following: get vaccinated (including a bivalent booster!), wear a mask in church, DO NOT come if you have a fever, cough or sneezing; maintain social distance, good hand hygiene and situational awareness at all times. We open doors and windows whenever our carbon dioxide monitor signals high levels. 99 members of our parish family have died from COVID-19, as of Sept. 13, 2022.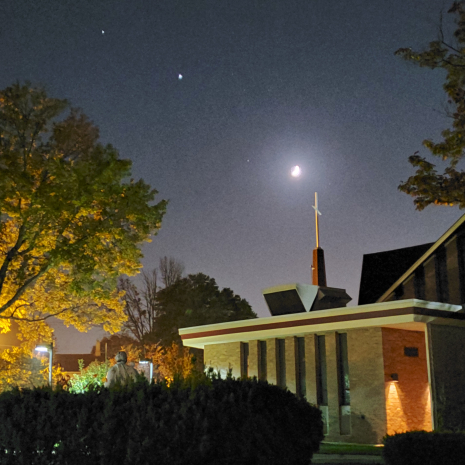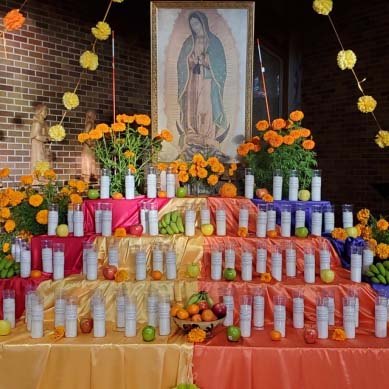 About
Nearly 150 years ago, infused with Benedictine monastic wisdom, a Catholic community began to take shape in Bound Brook, NJ.
Rooted today in a stunning sacred space inspired by the reforms of the Second Vatican Council, St. Joseph Catholic Community lives discerningly - amidst the current crises - in contemplative practice and justice-minded engagement of our multicultural membership. Joseph of Nazareth, as model of silence, work and selfless care, is our patronal light in persevering along Christ's radical way of discipleship.
Worship With Us
Sunday Masses
Saturday Vigil
5:00 PM (English)
7:00 PM (Spanish)
Sunday Masses
8:00 AM (English)
12:00 PM (Spanish)
Maximum Covid Capacity - 400 people (as of 6/5/21)
Daily Mass
Daily Mass
M-F 8:30 AM (English)
T-F 7:00 PM (Spanish)
Sat 8:00 AM (English)
Daily Prayer Practice
Contemplative Practice
Monday-Friday 6:00 PM
(Monday: Lectio Divina)
Vespers (Spanish)
Tuesday-Friday 6:30 PM