Wide-Open Advent
The Advent season runs almost a month this year, from Nov. 27 to Christmas.  How will you use these four full weeks of expectant hope, preparation and commemoration of the events leading to the Savior's birth?
Simply participating in our daily prayer moments – be it Vespers, Contemplative Practice or Daily Mass — is a good bet.
Advent: My Soul in Stillness
Advent is that most contemplative time of the year when we wait in stillness and expectant hope.
Perhaps this is the time you'd like to join us for our weeknight contemplative practice sessions. Monday evenings: Lectio Divina.  Tuesday-Friday: do-it-yourself contemplative practice. All sessions are in the church and begin at 6pm.
Contemplative Elder Project Resumes
Advent marks a new church year, a time perhaps to make new spiritual resolutions.  On Tuesday, Nov. 29 at 7:30pm, we'll have a discussion about the values of implementing a "Distinct Daily Rhythm" and a "Rule of Life."
Celebrating
Our Lady of the Americas
Our parish leaders are gearing up for another joyous and rousing celebration of Our Lady of Guadalupe, December 11-12.  Make time to join us for one or more activities.
SCHEDULE
Pray, Stand with Ukraine
"Let us pray for all Ukrainians, the children, the women and the elderly, the babies who are today suffering the martyrdom of aggression" — Pope Francis, November 23, 2022
Please continue to respond generously in prayer and action as this lawless invasion by the Russian aggressors continues.
UKRAINE RESOURCE PAGE
COVID Concerns Continue
Covid-19 subvariants are still very much with us, infecting parishioners on an ongoing basis, along with flu and other diseases. We continue to ask the following: be up-to-date with boosters, maintain good hand hygiene and situational awareness, and PLEASE DO NOT come if you have a fever, cough or sneezing.  Our doors will open when our carbon dioxide monitor signals high levels, no matter outside temperature. 99 members of our parish family have died from COVID-19, as of Oct. 22, 2022.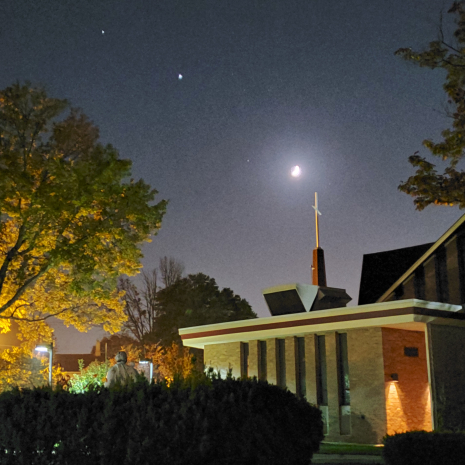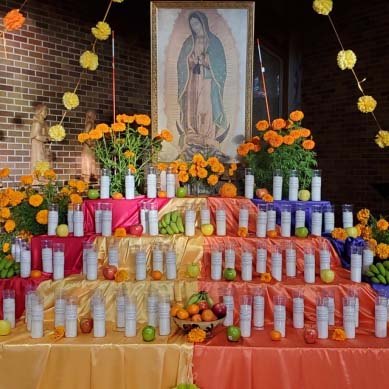 About
Nearly 150 years ago, infused with Benedictine monastic wisdom, a Catholic community began to take shape in Bound Brook, NJ.
Rooted today in a stunning sacred space inspired by the reforms of the Second Vatican Council, St. Joseph Catholic Community lives discerningly - amidst the current crises - in contemplative practice and justice-minded engagement of our multicultural membership. Joseph of Nazareth, as model of silence, work and selfless care, is our patronal light in persevering along Christ's radical way of discipleship.
Worship With Us
Sunday Masses
Saturday Vigil
5:00 PM (English)
7:00 PM (Spanish)
Sunday Masses
8:00 AM (English)
12:00 PM (Spanish)
Maximum Covid Capacity - 400 people (as of 6/5/21)
Daily Mass
Daily Mass
M-F 8:30 AM (English)
T-F 7:00 PM (Spanish)
Sat 8:00 AM (English)
Daily Prayer Practice
Contemplative Practice
Monday-Friday 6:00 PM
(Monday: Lectio Divina)
Vespers (Spanish)
Tuesday-Friday 6:30 PM