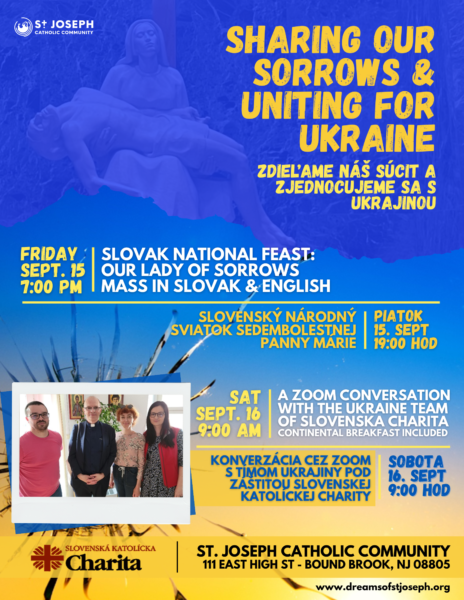 We are taking advantage of a quirky gap in our liturgy schedule, while continuing to persevere in our solidarity with the people of Ukraine, as the lawless invasion and subsequent brutality of this sovereign country now approaches 600 days.
On Friday, Sept. 15, the annual Hispanic Heritage Mass is being celebrated at the Metuchen cathedral.  So popular is this diocesan Mass among our own parishioners that last year we had only a couple of people remaining for our regularly-scheduled Spanish Mass that evening (we usually draw closer to 50 people on Friday evening.)  We obviously encourage all to participate in Metuchen, if desired.
But rather than face a near-empty church here in Bound Brook on Sept. 15, we are going to celebrate the patronal feast of Slovakian Catholics: Our Lady of the Seven Sorrows, with a 7pm Mass in Slovak and English.  Although we have only a handful of Slovaks in the parish, two of the last five pastors of St. Joseph have been Slovak, and with the collection benefiting the Ukraine team of Caritas Slovakia, perhaps folks will want to come simply to extend practical support.  Our pastor is an unofficial ambassador for Caritas Slovakia in the US.  Light homemade Slovak desserts will be available after the Mass.
The project we are supporting is a "Charity Kitchen" for at-risk internally displaced persons within Ukraine.
You can learn more and first-hand of that project the following morning, Saturday, Sept. 16.  After a light breakfast will be offered at 8:30am, at 9am, we will conduct a ZOOM call in the church with the Ukraine team of Caritas Slovakia, led by Dominika Simonffyova, based in Bratislava for the call.  They are eager to share what they are doing to alleviate suffering in Ukraine, and can tell us first-hand where our donations are going.  All are welcome to join in-person, or via ZOOM.  The link is: https://us02web.zoom.us/j/82545997262?pwd=VU5HRnFzeVV0SXRpUmNtZGdRUm9IZz09#success
To support Ukraine through Caritas Slovakia, at any time, please visit: https://www.charita.sk/caritas-slovakia/